Bin Dividers - Quantum QSB Series Economy 4" Shelf Bins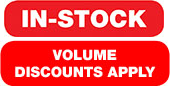 FOB - East Coast Warehouse
Ready for Quick Ship.
Sold in cartons of 50 only.

Easily create up to eight compartments in your Economy Shelf Bin with these handy Dividers.
Installs snugly and horizontally for clean organization.
Easy labelling via individual label slots for
fast content I.D.
All bins accommomdate up to seven dividers.
If you need a large quantity of this product, call us at 1-800-338-1382 for additional bulk discounts!