Dividers - Quantum Dividable Grid Containers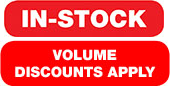 FOB - East Coast Warehouse
Sold in cartons of six.
Create custom configurations to fit small- and medium-sized parts in your Dividable Grid Containers. Just slide these dividers into the molded-in slots and easily rearrange them whenever you need.
Divides containers by length and/or width, allowing subdivision down to a 1-1/8" square compartment size.
Creates uniform or multiple sizes of compartments within one container.
Secures stored items while keeping them visible and
easy to access at the same time.
Slotted for easy interlocking – no tools or hardware required.
Durable, corrosion-resistant plastic.
Here's how many Long (legth) and Short (width) Dividers
each container model will hold:
Models DG91035 / DG91050
Long Divider Slots : 5
Short Divider Slots: 7
Models DG92035 / DG92060 / DG92080
Long Divider Slots: 7
Short Divider Slots: 11
Models DG93080 / DG93120
Long Divider Slots: 11
Short Divider Slots: 15
If you need a large quantity of this product, call us at 1-800-338-1382 for additional bulk discounts!