Nesting Parts Bin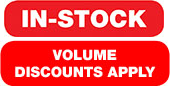 FOB - East Coast Warehouse
Sold in carton quantities only.
Color: Black or White

Organize your small to medium sized parts, items, and tools with our tough, durable, high density Nesting Parts Bins. Bins save space and nest when empty.
If you need a large quantity of this product, call us at 1-800-338-1382 for additional bulk discounts!