PFTC4026-33-3 Plastic Mobile Cart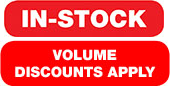 FOB: East Coast Warehouse
The PFTC4026-33-3 3-Shelf polymer mobile cart is the ultimate in movable storage and workmanship. The flat top will provide ample work space while extra shelving beneath will store all of your much-needed hardware. It's great to get the job done, no matter how big or small, with the use of this heavy-duty durable workstation.
Features:
3 Shelves
Outside dimensions - 40" x 26" x 32-1/2"
Inside shelf dimensions - 35" x 23"
Load Weight - 550 lbs
Number of Shelves - 3
4 heavy-duty casters
If you need a large quantity of this product, call us at 1-800-338-1382 for additional bulk discounts!