QDC2420-12 Heavy-Duty Attached Top Container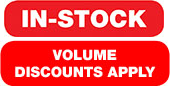 F.O.B. East Coast Warehouse
Strong, reliable and reusable – the ideal container for distribution and supply centers.
Maximum load stability provided by recessed lids.
Ergonomic handles for easy lifting.
Molded from high-density, FDA-approved polyethylene.
Stacking strength and security from tops attached with interlocking hinges.
Smooth conveying thanks to the textured, non-slip bottom.
Protects contents from dust and damage with securely-closing lids.
Stacks when full, nests when empty.
Padlock eye for optional fastening and/or locking of lids (padlock not included).
Outside Dimensions (Top LxW) - 23-7/8"x19-3/8".
Outside Dimensions (Bottom LxW) - 21-1/4"x17-5/16".
Inside Dimensions (Top LxW) - 22-1/4"x18".
Inside Dimensions (Bottom LxW) - 20-5/8"x16-5/8".
Optional Plastic Dolly for transporting your containers is also available – please see Options tab for details. Model QDC2420-12 cannot be used on the DlY-2415 Dolly. Use with the DLY-3018 Dolly.
Custom colors and hot stamping are also available – please call Material Flow for details.
If you need a large quantity of this product, call us at 1-800-338-1382 for additional bulk discounts!