QDL-2115 Label For Attached Top Containers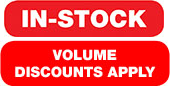 F.O.B. East Coast Warehouse
The QDL-2115 label for the attached-top container is an optional 3" x 5" clear-label holder ideally used for the easy identification of stored items. The label enables orderly storage of items and is efficiently used in inventory control.
Features:
Adhesive label attaches securely
Container Weight: 2 lbs.
Container Quantity: 24
If you need a large quantity of this product, call us at 1-800-338-1382 for additional bulk discounts!