QGH805MOB Mobile Giant Stack Containers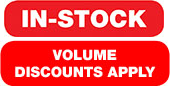 FOB - East Coast Warehouse
Colors: Blue, Gray, Red
Sold in carton quantities only.
The QGH805MOB mobile giant stack container is injection molded from high-density polyethylene and allows for the storing and transport of bulky parts or tools.
Outside dimensions: 17-1/2" x 16-1/2" x 12-1/2"
15-5/8" x 13-3/4" x 12-1/4"
4 x swivel 3" casters with brakes (allow for a 3" height increase of the container when using casters)
Container weight: 17 lbs
Container quantity: 2
Load capacity of up to 250 lbs
Color options: gray, blue, red
Wide open hopper front provides easy access as well as high visibility of contents
If you need a large quantity of this product, call us at 1-800-338-1382 for additional bulk discounts!