Quantum Tip Out Bin Set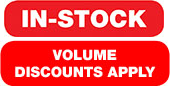 FOB - East Coast Warehouse
Sold in carton quantities only.
The QTB669 tip out bin set keeps small items sorted and easy to find.
21 compartments
Clear cups with blue handles
Cups tilt out at a 45° angle
Gray color exterior housing
Label on each cup area
Wall mountable
Dimensions: 3-5/8" x 23-5/8" x 11-1/6"