SSB461 Stackable Shelf Bins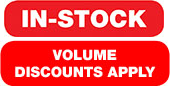 FOB: East Coast Warehouse
Colors: Black, Blue, Gray, Ivory or Orange
Sold in carton quantities only.
Quantum SSB461 stackable shelf bins are available in a variety of colors and can be stacked on top of other bins to save storage space.
Features:
Bins fit perfectly into wire shelving unit
Allows for increased product visibility
Ideal for the storage of parts and supplies
Open front hopper allows for easier access to the stored contents
Bins are ideal for use with inventory management systems
Optional Bin Dividers and LTR-2400 Clear Laber Holders with Laser Label Inserts are also available. Please see Options tab for details.